Private Tour to La Lorenza Iguazu: Walk & Kayak
WE ARE BASED IN ARGENTINA 🇦🇷
Discover a Natural Landscape Away From the Crowd and Enjoy a Relaxing Kayaking in La Lorenza Iguazu
After visiting the Iguazu Falls, discover a place away from the crowd and with beautiful natural landscapes.
In La Lorenza Iguazu you will learn much more about the animals and flora that are in this area, together with an expert guide who will be with you throughout the tour.
Then, you can take a short kayak ride along the river where you can appreciate the nature and tranquility of this place, and then finish with a heavy appetizer on the deck.
An experience that you will undoubtedly enjoy!
See what you are going to experience.
KAYAK + GUIDED WALK THROUGH THE FOREST + HEAVY APPETIZER.
Once we arrive at La Lorenza, a short walk through the forest will take us to the banks of the Paraná river where the kayaks will be waiting. 
The Paraná is South America ́s second longest river after the Amazon and its name in guaraní language means "relative of the sea". 
A gentle paddle will take us to one of the Paraná ́s affluents, the Urugua-í river. This smaller river and it ́s serene waters, is a perfect place to contemplate nature and share the historical relationship between local communities and this hidden river. 
A swim in the river is possible as there are no aggressive animals in its waters. 
After 2.5 miles of kayaking, we will be back on land. A 45 minutes walk through the forest will take us to a deck overlooking the river with a priveledged view. 
Our visit ends at this unique place across borders, with a delicious appetizer.
Emilio White is a passionate naturalist photographer, ornithological guide and an Atlantic Rainforest lover. He is autor of 3 books. The latest one is about the Iguazu National Park. Now, he is working on a book about the jaguar in Argentina.
He is member of Proyecto Yaguareté, a Group of researchers with more than 15 years investigating the jaguar in this ecoregion, and dedicated to conservation. This group belongs to CEIBA, the Atlantic Rainforest Investigation Center.
He worked with the British Broadcasting Corporation, the BBC, as a field assistant on several television series, within the Natural History Unit. Emilio participated in "The Life of Mammals","Wildlife On One", "Planet Earth" and "Life" in Argentina and in other Latin American countries, mainly in Costa Rica, Panamá, Brazil , Chile and the United Kingdom.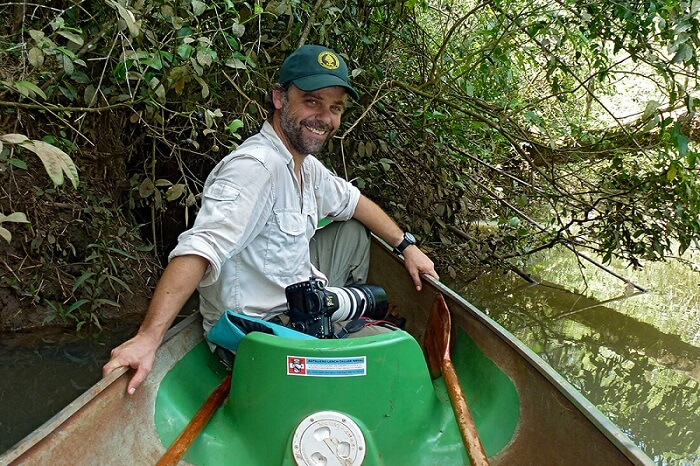 What people are asking about La Lorenza in Iguazu
You can add all of these in the booking form.
Morning outing: from 8:00 am to 1:30 pm aprox.
Afternoon outing: from 3:00 pm to 8:30 pm aprox.
During winter season, from June to August, suggested departure is at 2.00 pm and returning at 7 pm.
Total duration: 5:30 hs

What should i bring to the tour?
If the cancellation happens between 0 and 7 days before the service, 100% must be paid.
If the cancellation happens between 14 and 7 days before the date, 50% must be paid.
If the cancellation happens between 14 and 30 days before the date, 30% must be paid.
If the cancellation happens more than 30 days before the service, it is taken as credit for the next service (valid 1 year).
Minimum of 2 passengers to confirm the tour.
This tour is only for over 8 years old.
Let us know in advance if you have any health problems or suer from allergies.
Bring your passport.
LEVEL OF DIFFICULTY: EASY
Is this tour canceled by weather?
If the weather is too bad, could be rescheduled or canceled.
Prices in USD, per passenger.
Private Tour to La Lorenza Iguazu: Walk & Kayak
Low Season (Until December 31, 2020)
USD 538 (1 passenger) | USD 269 (2 Passengers)
USD 239 (3-4 Passengers) | USD 229 (5-8 Passengers)
High Season (Until Narch 31, 2021)
USD 578 (1 passenger) | USD 289 (2 Passengers)
USD 259 (3-4 Passengers) | USD 249 (5-8 Passengers)
See the last reviews from travelers that book their tour through iguazufalls.com
Just complete the booking form. When you finish will be redirected to Paypal where you can pay the tour.

What Happens After Booking?
As soon as you finish the booking, check your email. There you will receive the instant confirmation of your excursion
In that email you will also have the voucher. Print it or take it on your phone the day of your excursion.
What is the Cancelation Pollicy?
Please check the cancellation policies in the FAQs.
Related Excursions to Iguazu Falls
Check other experiences you can't miss on your visit