Private Birdwatching Tour in La Lorenza Iguazu
Half Day Tour (Early Morning)
Discover a Place Outside the Crowds and Full of Birds and Natural Beauty in La Lorenza Iguazu
La Lorenza Iguazu is a private reserve just 20 minutes from Puerto Iguazu (Argentina), far from crowded and with a great variety of flora and fauna to discover.
During birdwatching you will be accompanied by Emilio White, an ornithologist guide with a lot of experience and passion for his work. He will show you and teach you all the secrets of the birds of the place and will help you have the best experience during your visit to La Lorenza Iguazu.
Emilio White is a passionate naturalist photographer, ornithological guide and an Atlantic Rainforest lover. He is autor of 3 books. The latest one is about the Iguazu National Park. Now, he is working on a book about the jaguar in Argentina.
He is member of Proyecto Yaguareté, a Group of researchers with more than 15 years investigating the jaguar in this ecoregion, and dedicated to conservation. This group belongs to CEIBA, the Atlantic Rainforest Investigation Center.
He worked with the British Broadcasting Corporation, the BBC, as a field assistant on several television series, within the Natural History Unit. Emilio participated in "The Life of Mammals","Wildlife On One", "Planet Earth" and "Life" in Argentina and in other Latin American countries, mainly in Costa Rica, Panamá, Brazil , Chile and the United Kingdom.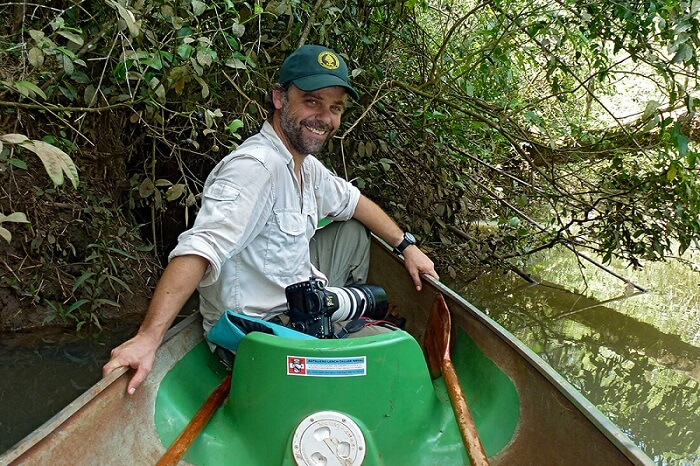 Around 6 am from your hotel, with an ornithologist guide, binoculars and a telescope in hand, we begin a walk through the jungle and nearby paths in search of the most emblematic birds in the area. In La Lorenza you can find up to 300 species (registered).
It is possible to observe the golden-crested woodpecker and the robust woodpecker, band-tailed manakin, varieties of Black-breasted plovercrest (especially standing out the rough-billed hummingbird, a very territorial species so it is easy to see it always in the same place), the red-ruffed fruit-crow with its scarlet chest, different species of tanagers and euphonias, woodcreepers and of course the two species of surucua trogon and black-throated trogon.
With some luck and patience (with increased chances during the Argentinean winter – June to August), it is possible to spot two species of toucans less famous or popular than the toco toucan but of fascinating coloration, such as the chesnut-eared aracari and the spot-billed toucanet, the latter of great value since it is endemic to the Atlantic Forest.
You will go into nature to discover what it has prepared for you this morning! While you learn about the behavior of birds, their ecological value, and characteristics that make them unique.
This outing is suitable for amateurs as well as beginners in bird watching and photography. It is led by ornithological guides specialized in the Atlantic Forest. The visit culminates in our deck with a panoramic view of the Paraná River sharing drinks and something delicious to snack on.
The visit culminates in our deck with a panoramic view of the Paraná River sharing drinks and something delicious to snack on. Return to your hotel around 11 am.
What people are asking about The Argentine Experience in Iguazu
What is the Cancellation Policy?
0 to 7 days before the date: 100% of penalty
7 to 14 days before the date: 50% of penalty.
14 to 30 days before the date: 30% of penalty.
More than 30 days before the date: 100% refundable.
Do you provide equipment?
La Lorenza provides a telescope to see all the birds you want during the tour! The guide will make all the setup to give you the best view.
La Lorenza Iguazu does not provide binoculars or any special equipment for birdwatching. But we suggest you contact us to see how we can help you.
Can i do this tour before my departure?
If you flight departs after 15hs from Puerto Iguazu Airport (IGR), you can bring your luggage with you (and leave them at the vehicle) and then La Lorenza Iguazu can drop you at the airport instead your hotel.
If you flight departs from Foz de Iguazu Airport (IGU), we suggest take a late departure flight. In this case La Lorenza will drop you back to your hotel.
Prices in USD, per passenger.
DON'T MISS THIS EXPERIENCE!
Private Birdwatching Tour in La Lorenza Iguazu
Enjoy this unique experience in la Lorenza
See the last reviews from travelers that book their tour through iguazufalls.com
Just complete the booking form. When you finish will be redirected to Paypal where you can pay the tour.

What Happens After Booking?
As soon as you finish the booking, check your email. There you will receive the instant confirmation of your excursion
In that email you will also have the voucher. Print it or take it on your phone the day of your excursion.
What is the Cancelation Pollicy?
This tour is 100% refundable until 48hs before your tour.
Related Excursions to Iguazu Falls
Check other experiences you can't miss on your visit