Full Moon Walking Tour to Iguazu Falls (2020-2021)
Book Today Your Place to a Unique Experience in Iguazu Falls at Night, Under the Moonlight
During specifics days, Iguazu Falls gain a new and unique shape thanks to the moonlight. This natural effect let you rediscover the falls in a way that can't be replicated.
If you travel date is then the moonlight is available, you just can't let pass this opportunity.
Book today your place to see the Full Moon Walking Tour to Iguazu Falls, and guarantee your place on the excursion.
Our tour starts at your hotel (in Puerto Iguazu or Foz de Iguazu) when a car will pick you up with the other passengers to go straight to the Argentinean national park. In there, our driver will assist to get your pre-confirmed tickets to start the tour. Once the tour starts, you will go to the Ecological train to to visit the Devil's Throat under the moonlight (the option with dinner isn't available anymore). After the tour finish, the driver will be waiting for you to go back to your hotel.
If you are in Foz de Iguazu, don't worry! Because we can pick you up there too.
You won't regret this experience, book today for a place to the full moon excursion to Iguazu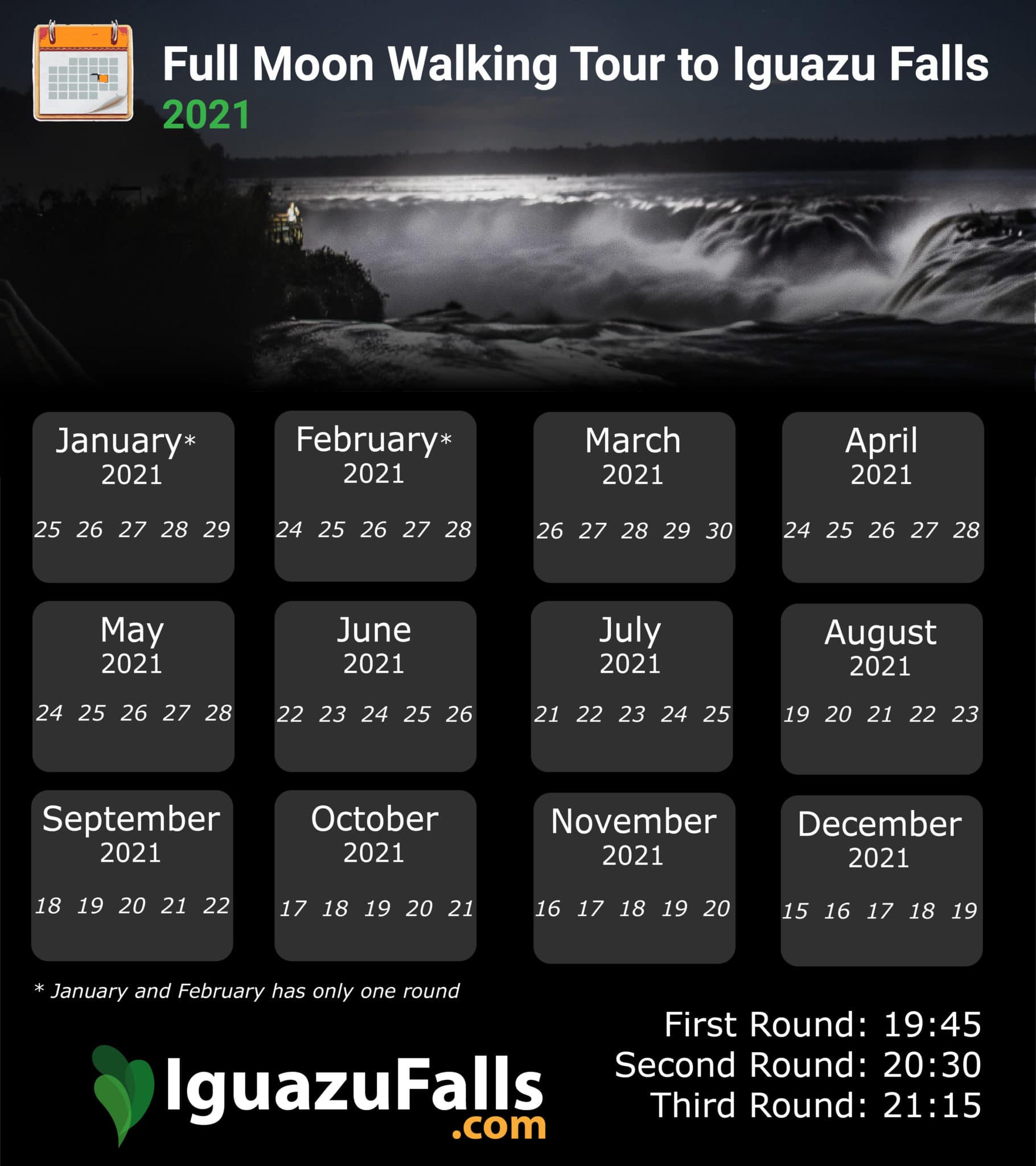 What people are asking about Full Moon Walking Tour to Iguazu
1st Call - Timings (19:45hs)​
2nd Call - Timings (20:30hs)
3rd Call - Timings (21:15hs)​
Full Moonlight Tour to Iguazu only includes the Devil's Throat circuit.
Flash in your camera isn't recommended, because your eyes will not adjust to the low visibility.
All the walk is done with guides.
At the night it can be a little cold, we recommend you bring some extra cloths in case you needed it.
Book in advance to guarantee your place in the excursion.
Prices in USD, per passenger.
DON'T MISS THIS LIMITED EXPERIENCE!
Full Moon Walking Tour to Iguazu Falls (2020-2021)​
Enjoy Iguazu Falls at night.
Just complete the booking form. When you finish will be redirected to Paypal where you can pay the tour.

What Happens After Booking?
As soon as you finish the booking, check your email. There you will receive the instant confirmation of your excursion
In that email you will also have the voucher. Print it or take it on your phone the day of your excursion.
What is the Cancelation Pollicy?
This tour is 100% refundable until 48hs before your tour.
Related Excursions to Iguazu Falls
Check other experiences you can't miss on your visit